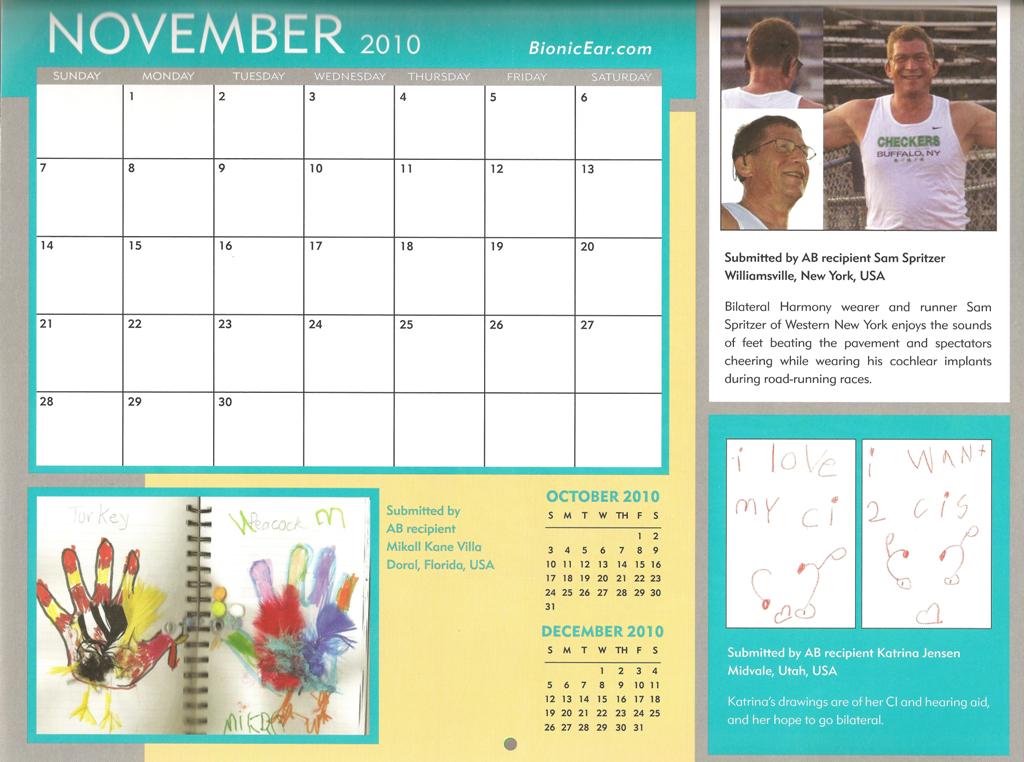 Click on photo to enlarge
Many of you know me as the all consuming BEA (Bionic Ear Association) mentor. The above is what appears in the BEA calendar for November 2010. And not only am I getting myself some national exposure but so is Checkers AC, the running club I belong to.
My CIs continue to gradually improve my hearing. I do have to admit that I had been slacking off in practicing and I think I am paying for that mistake as I still have not yet mastered the phone.
On the CI mentoring front, a lot happened this year. I met 30 some odd other CIers from all around the country at the corporate headquarters for Advanced Bionics where we spent five most memorable days getting to know each other, learning how we can help others and see our where our CIs are built.
In addition to mentoring countless number of candidates plus a few who were struggling post-op, I helped start up a BEA chapter in Western NY. We had our first social in August. With the help of a mom of an 11 y/o CIer, we will have another one in February 2010 at the Batavia Public Library. More details to follow.
Below is a booklet the 11 y/o wrote based on her first CI experience. It is written by Mary who went deaf at three and a half, received her first implant at six and just had surgery to receive her second implant. She also won the Girl Scouts Bronze Award. I had the opportunity to meet this wonderful gal last week.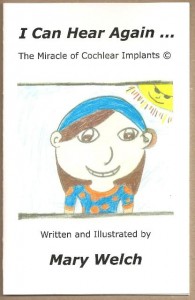 click on photo to enlarge
For 2010, I think there is going to be a lot of good things happening. As much as I am looking forward to continuous improvement, I want to continue to help others. This would not only be in help choosing and naivgating the CI world but also those who are newly activated. And, if you would like me to help you please head over to the Bionic Ear Connect to a Mentor website. And by the way, I am the guy in the middle of the back row in the yellow shirt.