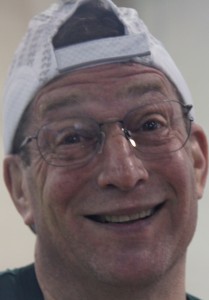 If you want to see me up close, just click on the picture. It's not that scary….just a little goofy. This picture was taken by Checkers photographer at the Feel the Spirit 5K race, yesterday. As you can see closely, I am missing the lens in my glasses on the right side. This is not the first time it has happened. Only this time I wasn't aware because of the way I was carrying them. Sucks to get old, doesn't it? But then again, I shouldn't be complaining since I have a full head of hair.
My mom didn't believe it nor did she believe I don't have more than 10 gray hairs. She insisted on my niece checking my scalp to see if there was any coloring. I love my niece dearly.
Next week is the Bunny Hop whose race director is the world famous Chuck Tokarz. This is a race where the prizes are large, small and medium chocolate bunnies. And of course, the women outnumber the men, 2 to 1. In fact, I have never seen so many women flirt with the men who take first, second or third. I never place; at least I live to see another day.
I was watching the NASCAR race today. I couldn't believe how many Cialis commercials there were. And no, I am not going to put a link to its website. But, I seriously wonder if the bathtubs come with the pills. And if they don't, isn't that false advertising?
Ok…enough said. Go back the laughing at my picture….