Last night was the first track practice for Checkers AC. Aside from the fact that it was in the 30s with wind gusts in the 20s and an occasional flurry, can you see how bundled up I am?
The hawks were circling above and Ray made a comment that they were going to swoop down and steal my hat because it looked like a bunny tail. That hat is close to 30 years old. It was handled out to the employees and volunteers of Covenant House at a Christmas party sometime back in the 80s.
The workout consisted of 12, yes TWELVE, sprints of 200 meters each with a 200 meter jog back to the starting point. For those of you who wonder, 12 times 200 equals 2400 which comes out to 2.4 kilometers which translates to 1.84 miles. And at a 6 minute and 33 second mile pace which equates 9.2 miles per hour. So along with warmups, I ran a total of 4.15 miles. Now if you're gonna give me this funny look of why ANYONE would run 4.15 "in your face" miles on a cold, windy day you might as well skip the rest of this article!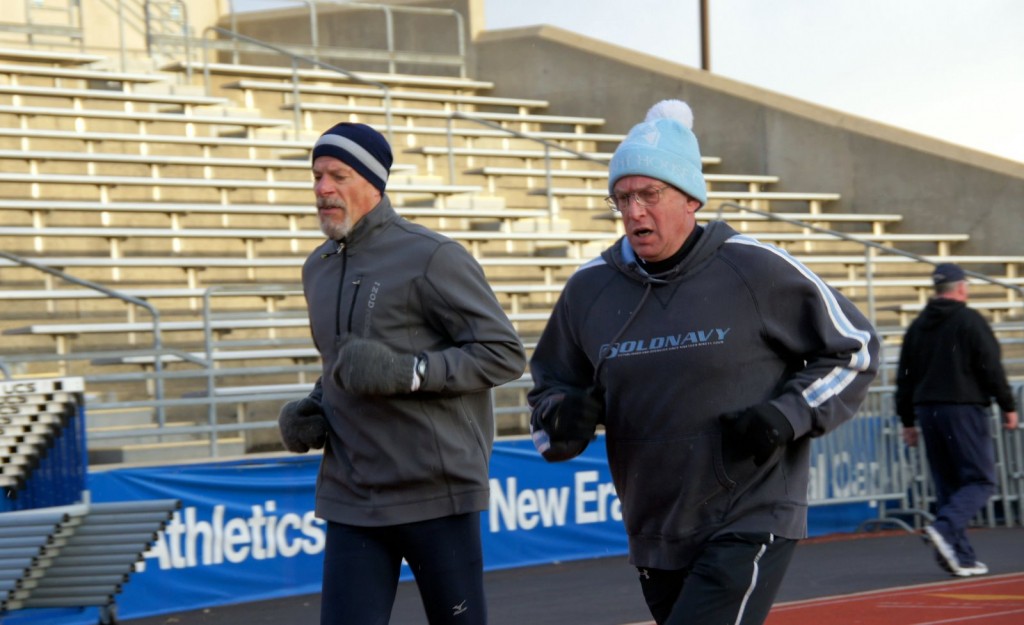 The beauty – it's a way to stay healthy (and maybe making some ortho surgeon rich). There is a certain camaraderie in being among 100 other brave souls. "Big" Mike K, Linda and her "are we nuts or what?" smile, Tommy "I am your President" D., countless number of female "fans" whose sole mission is to get a hug from me, Patty W. who earns her place in this article by proclaiming that she loves to read my blog, Tim (the saint) and Noreen (the devil), Rich, Ginny, Coach Vikki, Roger, Paul, Diane and her camera (she took the pictures), "Pokie", Rick, Sharon, running pardn'r Ray-Ray (no Ray, i don't wanna feel your biceps), and the list can go on.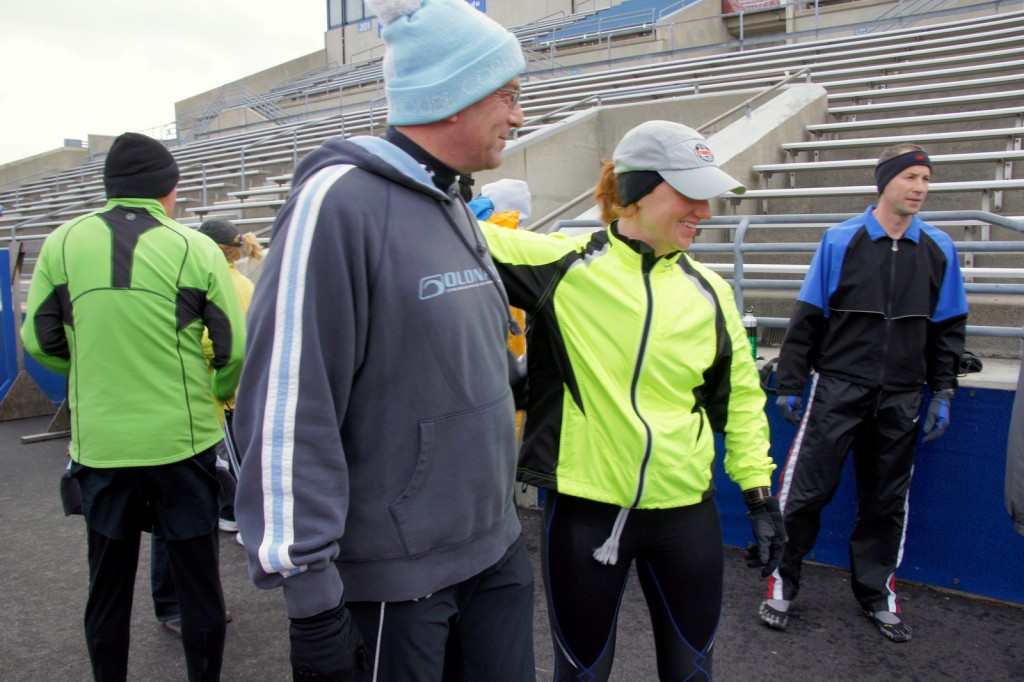 To me, running is not just a competitive sport. It's a love. The love of life and being around others who share the same ambitions and commitment. It's blood, sweat and tears…grotesque looking faces…dead rabbits…the joy of crossing the finish line…defeat…PRs…heavenly bliss…dreams. It's a sense of accomplishment. It brings out the free spirit nature that I have come to live all my life. It's an extended family. It's a priority.
It's being Steve Prefontaine, Joan Benoit Samuelson, Bob Wheeler, Katherine Switzer, Ryan Shay, Deena Kastor, Tony Garrow, Paula Radcliffe, Bill Rodgers, Mary Decker Slaney, Bill Bowerman and all of those famous runners all rolled up in one.
It's place in life is up there – God, Steph, family…………….running.
Having said all that, here are the first two races of the season for me. Next Saturday, April 16th – Feel the Spirit on the course too easy to tame. And the Saturday after that, the Bunny Hop on the course too tough to tame! Both races are part of the new Checkers Grand Prix series. BE THERE! DO IT!
You have to wonder at times what you're doing out there. Over the years, I've given myself a thousand reasons to keep running, but it always comes back to where it started. It comes down to self-satisfaction and a sense of achievement. -Steve Prefontaine