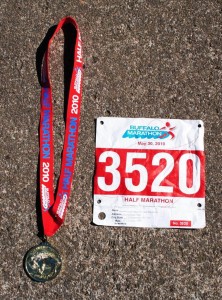 click to enlarge
We woke up at 4AM to a cool crisp moony morning.  Two cups of Tim Horton's, a protein bar and 16 oz. of HEED and out the door by 5:30, we go flying down the 33 to the Hyatt, downtown Buffalo.  The joint and streets were already jumping and we were lucky enough to get a parking spot a couple of hundred yards from the finish line.  We quickly met up with Linda and Kingsley.  Linda and Steph made up half of a Female Masters Relay team with the others being Diane who had just flown back from California and Carolyn.  Kingsley and I were going to try to pace each other along with Mike.
The course runs along the west side of Buffalo before going along the river and then out to the harbor.  After coming out of the harbor, it heads south through the Irish neighborhood of South Buffalo and through what is left of the grain mills and the steel manufacturing center that Buffalo was famous for in the early and middle part of the 20th century.  And finally, it head back towards the convention center where the crowd 5 deep packed both sides of the street.
As I said before, my goal was to finish in under 2 hours.  In order to do that, I would have to average 9:10 for a mile.  For the first three miles, I stuck with Kingsley who is a more experienced distance runner with a pace under 8 minutes.  At the same time, the sun was starting to come up.  With not one single cloud in the sky nor a breeze, it got hot fast.  Even with the water stops spaced out every 2 miles starting at the 3 mile mark, I was drenched so much that you could wring the sweat out of my shorts and singlet.
Once we hit the river, the sun was right in front of me and for the next five miles, it stayed there.  There was no shade or any part of the course where we could get a reprieve from it.  At one point, I was starting to get light-headed which meant I had to slow down.  At the next water stop, a dousing of water and couple of swigs of Gatorade and I was back to normal.  But this meant I had to slow my pace down.  Keep in mind, I am lugging a good 195 lbs. around.  Kingsley, I have to surmise, probably weights about 160.  You'll be surprise how much faster one can get if they shed even 5 lbs.  Yea, I know…I need to slim down more but I am gonna blame Steph's cooking and the king sized portions she makes.  She keeps forgetting that its just the two of us for dinner most nights!
Meanwhile, from miles 4 to 7 my splits are nearly equal and for that entire distance the gap was no more than 10 seconds.  I had finally fallen into a groove where I was comfortable even with the sun bearing down.  That stretch of the course was relatively flat.  From miles 7 to 11, I started slowing.  It was at this part of the course where we encounter what felt like 3 monster uphills – overpasses that cross the railroad tracks.  When you are running like I did, your body starts to fall into a relaxing zone.  So imagine with a quarter of tank of energy, you have to chug uphill 3 times…OY!  At this point, my times were in the 9s.  Even for a first half marathon, this was decent and well within my goal of getting in under 2 hours.
THEN…in the middle of mile 11, you're coming down from a straight where your view is totally obscured by buildings.  You see the runners making a left turn.  You also see city hall and the convention center.  You look at your watch – a little more than a mile to go!!  BOOM!  The biggest baddest overpass!  I am like…I need instant prayers to get up this one.  Typically, when you can see the course ahead you can prepare for it.  And after 11 miles, you can sometimes forget what lays ahead other than the finish line.  I was totally unprepared for this.  It was like a sucker punch.  And at the same time, I felt like that dreaded "wall" was coming up!
With the heat and a little more than a mile to go, I did what I felt was prudent for someone who not only was running his first half marathon but who not even a year ago, suffered a heart attack.  I walked up the hill.  And so, that was probably worth a 2 minute premium on my time.  Even still, I was well on my way to breaking 2 hours.  For the last mile, cheered on by God, the angels in spirit,  friends, fellow runners, strangers, cowbells and the most wonderful sight of all…Steph, I was able to triumphantly run that last mile in with just enough gas to make it to the finish line collapsing shortly thereafter.  The feeling and euphoria of accomplishing what I thought would be impossible because of what happened eleven months early just so overcame me with tears.
I was six minutes under my goal…I finished in 1:54:18, good enough for 516 overall out of 2,514 half marathoners.  And Steph and her team, the Fast 50's, took 2nd place in the Female Masters relay.  Now that I have accomplished what I set out to achieve – that it's all about the guts….the GUTS, I am now looking forward to that next summit – a full marathon!