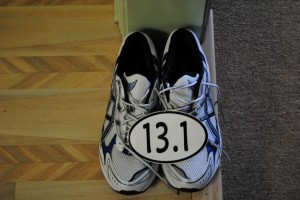 click on image to enlarge
Tomorrow, I will be doing my very first half marathon at the Buffalo Marathon.  This is one of Western NY's premier running events and the marathon that isn't famous unlike some others like Boston or New York City.  It's a beautiful course that runs through most of the city.  The half will be on the course that runs along the Buffalo River which feeds off of Lake Erie.  It will thread through the harbor and then head south through South Buffalo before swinging back up to the Convention Center.  From there to the north and back, the second half of the marathon continues.  The weather promises to be a top ten day where, as Dan Donoghue says, "people come from allllllll over the world for Buffalo's weather."
For me, this race is a huge significance.  Not only will it be the longest race of my road racing career, it will be my first half marathon.  The sticker above represents the number of miles in a half marathon and will go on the back window of my truck after the race.  Not bad considering eleven months ago (see Dead Rabbits and Pixie Dust), I was on my way to Fillmore – Gate Circle Hospital a victim of a rather shocking health event – a "mild" heart attack.  That heart attack detoured any attempt to do a half marathon last fall and, this would have been my first full marathon.
My goal is simple…to finish the race.  I will be running in honor of five people.
My 88 year old mom who still puts up with me after all these years and stills complain I don't contact her enough or fast enough.
My sister who I wish I could get closer to but sometimes life's priorities get in the way.
My two CI angels who were in constant contact with Him to make sure I had that second chance.
My beautiful, wonderful wife who will be running alongside for the first 6 miles.
And of course, it will be the greatest feeling of all to be running among the brethren wearing the famous Checkers AC green and who were all there one way or the other during the ensuring months.  I am not really aiming for any particular time but it will be nice to finish in under two hours.  As legendary distance runner and my hero, Steve Prefontaine said,
"Most people run a race to see who is fastest, I run a race to see who has the most guts."
Wish me luck and of course, good luck to Stephanie who will part of a four female masters relay team.